A bequest of beauty: the Shannon Butterfly Collection at Auckland Museum
Ray Shannon was a war veteran and collector with a passion for exotic butterflies. In a generous move he donated his entire collection and funds to Auckland Museum in 2008.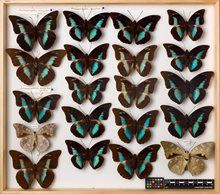 He started collecting butterflies while stationed in the Solomon Islands during the Second World War, and built up his collection to 13,000 specimens - mostly from Australasia, South East Asia, and South America.
John Early, Auckland Museum Curator Entomology, first met Ray in the 1990s and is now managing this astonishingly beautiful collection.
The income from Ray Shannon's estate has allowed the specimens to be scientifically classified and properly stored by Collection Technician Rosemary Gilbert.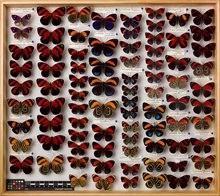 The Museum is now home to a stunning display of exquisitely-coloured butterflies which is also an invaluable resource for identifying protected species. One particular specimen, papilio sinoprinceps benguetana, is on the CITES list (Convention on International Trade in Endangered Species), which controls the importation of butterflies that are in danger of becoming extinct. When contacted by border control, Rosemary can check the sample against the collection to see if the butterfly in question is an endangered species.
The generosity of Ray Shannon is threefold in that he has:
made available a beautiful collection to be enjoyed by generations to come
provided funding to ensure this collection is properly stored and classified
enabled a reference source for a worldwide audience.
About Ray Shannon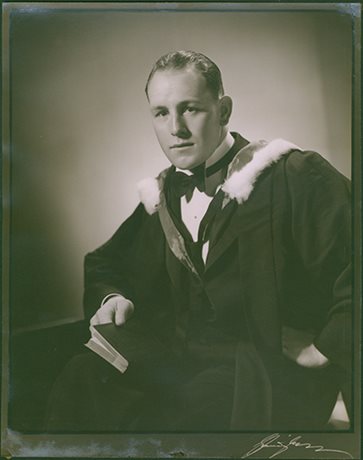 Raymond Thomas Shannon (1 July 1917 – 6 June 2008) was an electrical engineer with the New Zealand Post and Telegraph Department for his entire working life but his butterfly hobby commenced during the Second World War.
He must have had some prior interest because when he knew that he was being sent to the Solomon Islands he first visited the entomologists at the old Plant Diseases Division of the DSIR (now Landcare Research). Armed with good advice on how to collect and preserve insects, some basic equipment and a jar of cyanide for killing them he went off up to the Solomons.
Ray recounted a defining moment soon after he arrived where he was based up in the hills and responsible for radio communications. A large birdwing butterfly lazily flew past. These are among the largest butterflies in the world and males are spectacularly coloured.
There was no time to grab his net so instinctively he leaped into the air to try and grab it without taking time to consider that on the steep hillside the ground fell away rather abruptly. Ray crash-landed several metres down the slope suffering grazes and bruises for his efforts but no butterfly.
He kept his insects mounted on layered sheets of card in two metal tins, each layer separated by a scaffolding made from brazing rods. When moving between islands he didn't worry too much about his kit getting wet but took great care that the insects remained safe and dry – they were his first priority.
While in the Solomon Islands, Ray Shannon kept his insects mounted on layered card in metal tins.
After the war he used his holidays to actively collect butterflies with several trips to Asia and South America. In addition to those that he caught himself, he bought specimens from local collectors. This continued well into his retirement until health prevented travel to far flung places but he continued to collect, using the internet to make contact with and buy specimens from insect dealers all around the world.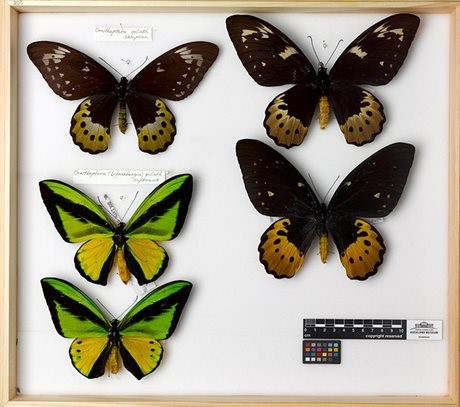 In addition to the butterflies themselves he assiduously combed book publishers' catalogues and built up an extensive library on the subject, and was just as proud of these as he was of the butterflies themselves. The books had pride of place in his living room while the drawers of butterflies completely filled the spare bedroom, stored vertically on purpose-built shelving like books rather than horizontally in cabinets.
The collection has proved to be valuable for checking identifications of butterflies suspected by border officials of being species protected by the Convention on International Trade in Endangered Species of Wild Fauna and Flora. There are so many look-alike species where differences between them are very subtle.
Two of the butterflies in drawer 133 (indicated by the red dot) are a rare and protected species (Papilio grosesmithi) from Madagascar. The remainder are a common species from Africa.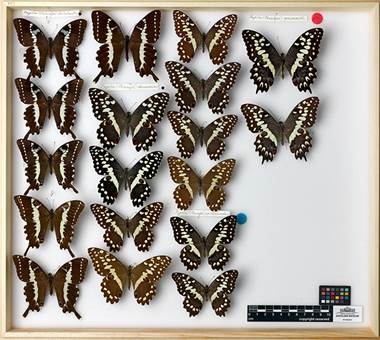 Have you considered leaving a gift in your will to the Auckland Museum?