Charity windfall after wooden owl arrives with a $1 million portfolio
2 September 2016, article originally in the Dominion Post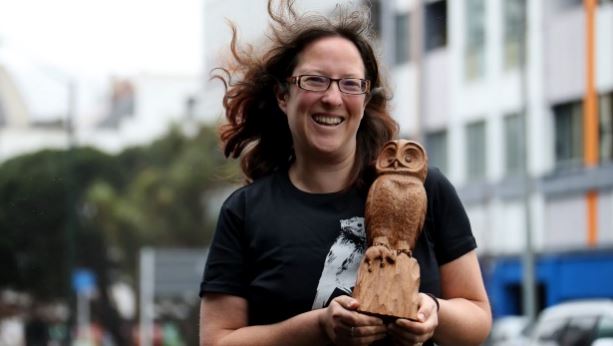 An English barn owl keeps a watchful eye over the Forest & Bird office in Wellington. A lifeless mouse is clutched in its equally lifeless talons.
It is not quite clear why it was bequeathed to the conservation charity but, given it came with close to $1 million in shares, nobody is about to complain.
Forest & Bird, along with other charities and campaigners, is part of Include a Charity Week to try to encourage New Zealanders to bequeath to charity in their wills.
Often those donations come in purely in money form, but others are decidedly left-of-centre, such as last year's $1m bequest specifically for the lizards of Zealandia, or the stamp collection another donated.
The first Forest & Bird knew of the hand-carved wooden owl was soon after the benefactor – Dennis Wright, from Whakamaru in the central North Island – died, bequests manager Jess Winchester said.
"[His executors] said, 'We have this owl'. He has been watching over us ever since."
It was only later Forest & Bird found out about almost $1m in shares that Wright also left the charity.
"Every single dollar donated is valued by Forest & Bird – we know how hard Kiwis work to earn their money."
For Forest & Bird, which gets one-third of its income from bequests and gifts, the money is vital. Some gifts, such as the owl's shares, came with no stings attached other than to spend it wherever the need was greatest, but others came with instructions.
One benefactor was passionate about protecting and saving rare native birds, so that money was used to help relocate and breed kokako in Auckland.
Bequeaths have been known to turn sour, such as in the case of Vogel House in Lower Hutt.
It was left to Wellington SPCA and the Vogel Charitable Trust but recent plans to offload it have ended up in the courts after objections from surviving Vogel family members.
Fundraising Institute of New Zealand spokeswoman Eleanor Cater said it was important in leaving bequeaths that family and friends were aware of them.
"Making a legal will also helps to avoid confusion over your intentions at a difficult time, and it gives you peace of mind.
"The challenging of a will is an occasional reality for charities and usually occurs where a bequestor's intentions have not been clear in their lifetime."
According to institute chief executive Sheridan Bruce, leaving bequests to charity was a growing trend. "The range of bequests is staggering, from millions through to a few hundred dollars; from holiday homes through to an item of small but personal value."
Include a Charity Week runs from Monday to Sunday next week.
HOW TO MAKE A BEQUEST:
Choose your charity. Some options are listed at includeacharity.org.nz
Meet your charity for a confidential, no-obligation chat about how your bequest can make a difference. It is up to you whether you tell the charities but it is helpful for them in planning their future work and so they can thank you.
Make sure you have the full name of the charity, and ideally its registered charity number.
Speak to your lawyer or trust company about making a will, or changing your existing will to include a charity or charities of your choice.
Tell your family and friends so they can support your goals after you die.
See the original Dominion Post article here.