South Head settler's gift to Muscular Dystrophy Association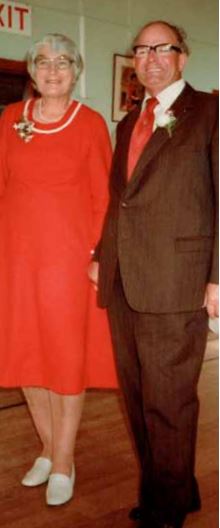 The Muscular Dystrophy Association (MDA) recently received a significant bequest from the residuary estate of the late Mr Alexander Bruce Cochrane.
MDA Acting Chief Executive, Ronelle Baker met with Dianne McLeod, one of the executors of the estate, to find out about this hard working, community-minded man, his late wife, Rene, and their connection to the MDA cause.
Diane was pleased to be contacted by MDA, saying that Bruce and Rene would be so happy that their bequest had made a difference to New Zealanders living with muscular dystrophy and other neuromuscular conditions. "They were such wonderful people, hard working and disciplined, with active social lives and a menagerie of animals. They lived modestly, but had the first television in the neighbourhood - all the kids piled into to their house to watch the fuzzy screen," Dianne recounted with a laugh. She went on to describe the unique history of the remote South Head community on the far end of a peninsula in the West Rodney district of greater Auckland.
Bruce and Rene settled at the Te Kawau block in South Head, on a Rehab Farm that was allocated by ballot to returned servicemen following WWII. The community was very remote at the time, with winding gravel roads making trips to nearby towns like Helensville an occasional journey only. The small community was galvanised by a strong sense of self-sufficiency and kindness, working together to build the local hall, school facilities and golf club. These families spent decades working together, helping and sharing with each other and fostering a strong community spirit.
Unable to have children of their own, Bruce and Rene enjoyed the company of young people in the community and the children of friends and family. Rene in particular shared her sewing skills with young people and items were often made for sale to benefit charity. She was heavily involved in the local Women's Division of Federated Farmers and, in later years, Bruce became an Elder in the Presbyterian Church.
The couple had decided very early on, that they would leave their estate to charitable purposes. There is no known connection to muscular dystrophy or the MDA however, after losing his wife, Bruce became a regular supporter of MDA, making donations up to twice a year from 2001 to 2010. Rene passed away on Easter Sunday in 1996 and Bruce on Easter Sunday 2014. Diane also lost a family member on another Easter Sunday, so the day is one of remembrance.
MDA were delighted and very appreciative to be named as a charity to receive a one sixth share of his residual estate, and would like to acknowledge the special couple that gave so much to the community both in life and in passing. "The substantial amount donated by the Cochranes has come at a critical time for our organisation and I am sure the other charities will be as moved as we are by this generosity," Ronelle says. "It is increasingly hard for New Zealand charities to fundraise and maintain vital services for our New Zealand communities. We are so thankful for this gift."
Have you considered leaving a gift in your will to the Muscular Dystrophy Association?