Giving back the greatest gift of all
4 September 2016, from NZ Herald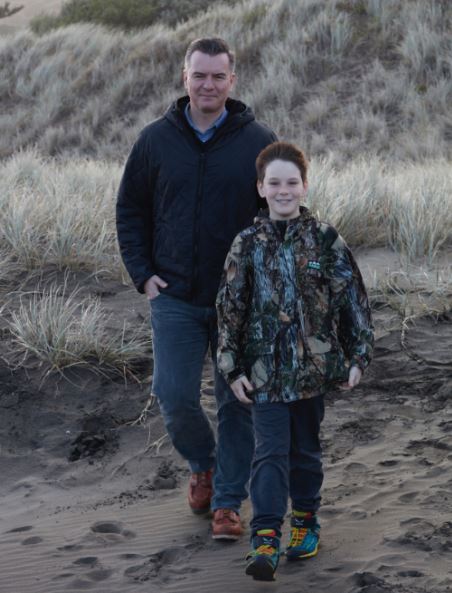 Almost three years ago Alistair Wilkinson, the face of 60 Minutes and one of New Zealand's most experienced broadcast journalists, fulfilled a life-long dream.
He, with husband Russ Flatt, became the permanent caregiver - or just "dad" as he puts it - to an 8-year-old boy.
Now Wilkinson, who is also heading a regional initiative for the Herald Focus, would like to give back to those who have helped them along this "extraordinary journey" of parenthood.
This includes the charity Fostering Kids NZ who he has decided to leave a bequest to in his will.
"It won't be a fortune, but it will make a difference. And that is good to know," said Wilkinson
It turns out Wilkinson is not alone. Kiwis leaving gifts, big and small, serious and quirky, in their wills to charity is a growing phenomenon.
Tomorrow, the charity sector, with the support of the Fundraising Institute of New Zealand (FINZ), is coming together for Include a Charity Week, which runs until next Monday .
The week aims to encourage more New Zealanders to leave a lasting legacy by including a gift to charity in their will.
In 2015, $150 million in bequests was given to over 750 charities in New Zealand, including a lizard enthusiast leaving $1 million to help protect native species.
This trend is on the rise, The average amount left to charities grew by 28 per cent between 2011 and 2014, according to Philanthropy New Zealand.
Bequests in New Zealand range from millions to a few hundred dollars; holiday houses and stamp collections. The average is around $40,000.
"Myths abound. And one of them is that bequest giving is only for the 'rich and famous'. With half of the bequests made in New Zealand being under $20,000, we see every day New Zealanders are weaving gifts to charities into their estate planning," said FINZ chief executive Sheridan Bruce.
Wilkinson and Flatt's son Jules, now 11, came into their lives via Child, Youth and Family's Home for Life programme. This differs to fostering, as the child is not returned to their parents or the agency but rather is in your care for life.
After deciding against surrogacy, as it did not suit their personal values and proves difficult in New Zealand, the couple felt this programme was the best way to take on a child and make it permanent.
Wilkinson said parenting a child like Jules, who has suffered trauma and neglect takes specialised skills, which he is forever grateful to Fostering Kids for providing.
Fostering Kids is a national organisation that advocates on behalf of Home for Life Families, Foster Families and Kin Caregivers, by providing support and training through a nationwide network.
Wilkinson, who is now an advocate for the organisation, said their support has really helped him and Flatt to create a healthy attachment with Jules and better understand his needs.
"Fostering a child is the most profound and important thing I have ever done.
"I want to know the organisation, which has helped us throughout this journey, is in good heart and good health in the future, when I am gone."
Wilkinson said Jules has expressed the desire to create a family "just like ours" when he is old enough to be a dad.
"That's why I decided to include a bequest to Fostering Kids in my will."
He jokes that people should make sure to discuss their decision with their family, so there are no "surprises".
Dick Hubbard, former mayor of Auckland and the man behind one of our most popular cereal brands, and his wife Diana have also opted to continue supporting the communities they care about beyond their lifetimes.
Four years ago, Hubbard found himself looking up at the underside of a bus after his motorbike skidded on loose gravel in the Himalayas.
"Fortunately I was between the two wheels," he said, though his thoughts quickly turned to his mortality, then to his estate.
Since then, the couple has included a bequest to the Auckland Communities Foundation in their wills. Dick and Diana have chosen to leave the residue of their estate to its Auckland Endowment Fund - used to support and make positive contribution to communities for generations to come.
Hubbard said leaving a legacy that will support the people and causes of Auckland suited his family, who have always been community-oriented. The family business employs 170 Aucklanders and as mayor from 2004 to 2007, it is fair to say Hubbard gained a good awareness of the city's issues.
"It's important to encourage other people to sign up to that concept for the betterment of Auckland," said Hubbard. "What do you want on your tombstone? Here lies a man who made X amount of dollars? Or here lies a person who made a difference to their community?"
Since making their bequest, the Hubbard's have become patrons of the Auckland Communities Foundation.
Another Kiwi, leaving a gift to charity in his will is Lawrie Coe a farmer from Waiuku, south of Auckland.
Coe has suffered a "tornado" of heart related issues for over 30 years, including 12 angiograms (X-ray photographs of blood or lymph vessels) and diabetes.
Heart disease is New Zealand's biggest killer of both men and women, claiming the lives of more than one Kiwi every 90 minutes.
Coe and his wife Rae said it was a natural choice to make a bequest to the Heart Foundation after all of the support they have received over the years, in particular from his cardiologist Dr Ivor Gerber.
"The Heart Foundation, through its supporters, played a major role in Dr Gerber's early training by providing him with research grants and an Overseas Training Fellowship," said Coe.
"We want to help the Heart Foundation fund more important research and cardiology training."
Coe said while his ongoing heart problems didn't affect him and Rae's current standard of living, he knows leaving money will make a real difference to the lives of others.
"It's one way of giving back to those who've helped me.
"We feel good knowing that the life-saving work of the Heart Foundation will carry on and that we have played a part in helping future generations."
Lawrie said setting up a will was simple; through their solicitor they made provisions for family and then allocated funds to the Heart Foundation.
Eleanor Cater, communications and campaign manager for FINZ said it is everyday people like Coe "who care about a cause enough to leave a gift in their will", that are the true heroes in the charity sector.
Other big givers
In 2015 Mark Zuckerberg announced that he would be giving away 99% of his Facebook shares to charity.
An elderly Wellington man's love of lizards led him to bequeath $1 million to the Endangered Species Foundation.
Retired district court Judge Ian Borrin, who died in March, bequeathed a $30 million charitable trust to promote the development of legal education and research.
An anonymous Whangarei woman bequeathed six community groups, including Alzheimers New Zealand and Arthritis New Zealand, more than $1 million each in 2013. The executors of her estate described her as working hard all her life, even in her 70s when she was shearing sheep on her 700-acre farm.
Most of the $2.45 million proceeds from the sale of a deceased estate in Remuera, Auckland went to the Neurological Foundation and Presbyterian Support Northern this year.
See the original article, and hear Alistair Wilkinson talk about his decision to leave a gift in his Will, here.